Home > Accommodation and Dining
Accommodation and Dining
Dining
Dairy Restaurant Grassy Hill
Grassy Hill dairy restaurant on Ito Farm offers a wide variety of unique kinds of food and goods -fresh milk, yogurt drinks, original soft served ice cream, cupcakes, cow motif goods, and authentic feeding bottles for calves to name just a few.  This is a great rest spot when taking the Attoko footpath, and you can play with charming animals like ponies and goats.  Visitors can also take part in dairy farming activities.

[Menu]
Bagel Sandwiches: from 420 yen
Kids' Plate: 680 yen
Cheese Platter: 600 yen
Beef Stew: 1100 yen
Yogurt Drink: 350 yen
Milk (Hot/Iced): 150 yen
Rainbow Soft Served Ice Cream: from 320 yen
Rainbow Soft Served Ice Cream Parfait: 580 yen
Bagel French Toast: 680 yen  
and more
Contact Us

Grassy Hill Restaurant (on Ito Farm)
Tel: 0153-26-2181  Fax: 0153-26-2141
URL: http://www.nemuro-footpath.com/gyuu/grassy-hill/
(Japanese only) 
*English available
Accommodations
Tick-Tack Camp Ground (Nemuro)
Tick-Tack Camp Ground is located on Tomioka Farm at the western starting point of one of Japan's longest footpath routes (40km total), that connects Attoko and Bettoga. Pitch a tent and enjoy a bonfire and BBQ, or bake pizza in a pizza oven and watch the slowly setting sun from the comfort of a drum can bath - a wonderful experience you will never forget.
At the "Agriculture and Farm Village Communication Center" on Tomioka Farm, you can get a better feel for the lifestyles of the settlers by watching movies from Nemuro's pioneering days.  You can also visit a rock quarry close to the farm that dates back to these times.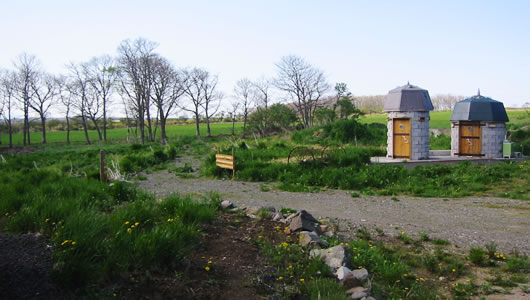 [Fee]
1 night/2 days (with 1 tent pitched)
Adult: 1,000 yen/person
Children: (under 12) 500 yen/person
*2 tents or more: 700 yen for each additional tent.
*No charge for children under 3 years old
Day Camp
(If no tent is pitched)
Adult: 400 yen/person
Children: 300 yen/person
(If tent is pitched)
Additional 500 yen added to the above fees
Other
Options Shower inside the cottage: 300 yen/person
Charcoal: 600 yen/use
Rentals
Tent: 1,200 yen/tent
Sleeping bag:  500 yen/bag
Mat: 500 yen/mat
Contact Us

Tick-Tack Camp Ground (on Tomioka Farm)
Address: 75-1 Nishi-Attoko, Nemuro-shi, Hokkaido, 086-0065
Tel: +81-153-26-2188  Fax: +81-153-26-2141
e-mail: tick-tack@aurens.or.jp
URL: http://www4.ocn.ne.jp/~michio/ (Japanese only) 
*English available
East Harbor Hotel (Nemuro)
The East Harbor Hotel is an 8 storey building situated in the city center, only a 7-min walk from Nemuro Station. Clear days offer guests expansive views of the Shiretoko Mountains and Kunashiri Island in the northern territories. Be sure to try the unique and exquisite flavors of Nemuro's bountiful seafood.  Esukaroppu, one of Nemuro's specialty dishes, is a must for visitors: esukaroppu, derived from the French "escalope", is a pork cutlet on top of buttered fried rice with demi-glace.
For accommodation charges and reservation details, please contact East Harbor Hotel directly.
Contact Us

East Harbor Hotel
Address: 1-26 Kowa-cho, Nemuro-shi,Hokkaido, 087-0027
Tel: +81-153-24-1515
*English available
Mashi Cafe + Lodge (Nakashibetsu)
Mashi Cafe + Lodge opened in the spring of 2007 in Nakashibetsu-cho, which is located in the middle of east Hokkaido, an area full of national parks and nature parks such as Shiretoko, Notsuke-furen, Kushiro Marshes, and Akan.  The hotel's extensive 82,500 square meter grounds encompass a meadow of seasonally blooming flowers, birdsong-filled forest Dongurino-mori ("acorn forest") and a spring-fed stream which is a gathering spot for wild animals.  Mashi Cafe + Lodge offers delicious cuisine made with local ingredients.
[Fee]
1 night with dinner and breakfast:
Adults: 7000 yen
Children (over 12 years old): 5000 yen
B&B:
Adults: 5500 yen
Children (over 12 years old) 3500 yen
-An additional 500 yen is added to the above fee for individual guests. 
- No additional fee is charged for small children sharing a bed with parents.
- A 5% discount is available from the 2nd night for guests staying consecutive nights.
- An additional 500 yen heating charge will be added during winter.
- Cash only (We do not accept credit cards)
[Cancellation Fee]
7 to 2 days prior to the reservation day: 50%
Day before the reservation day: 100%
Contact Us

Mashi Cafe + Lodge
Address: 1450-5 Tawarabashi, Nakashibetsu-cho, Shibetsu-gun, Hokkaido, 086-1137
Tel: +81-153-73-4080  Fax: +81-153-73-4080
e-mail: dog@mashicafe.com
URL: http://www.mashicafe.com/ (Japanese only)
*English not available