Hattaushi Route
Hattaushi Route [13.5km, 5.5 hours]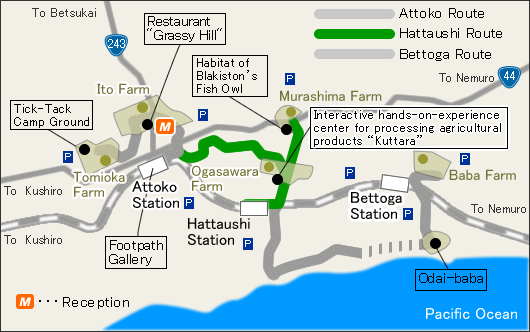 The Hattaushi Route is an agricultural road that is still in operation, and which is full of attractions for visitors. Observation spots for Japanese cranes allow you to view these rare birds in their natural surroundings, and other areas provide breathtaking views of Shiretoko and Kunashiri. The paved road should also be a favorite for cyclists hoping for an enjoyable ride through the countryside.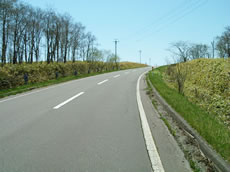 Be sure you make time to visit the lush banks of the meandering Bettoga River, but please remember to be careful around the water. At the Kuttara interactive center for processing agricultural products, you can also try your hand at a wide range of activities that have a flavor for every season. These range from making soba with local buckwheat flour, bread and sweets, to processing dairy products and smoked goods.
Japanese crane observation spot
Japanese cranes (grus japonensis) are birds that mainly live around the marshlands of Kushiro in Eastern Hokkaido. The Ainu, the native population of northern Japan who now live in parts of Hokkaido, used to call Japanese cranes "Sarurun-kamui", meaning "God of marshlands". Along with the other routes, the Hattaushi route passes through Japanese crane habitat, and lucky observers may be able to spot these birds.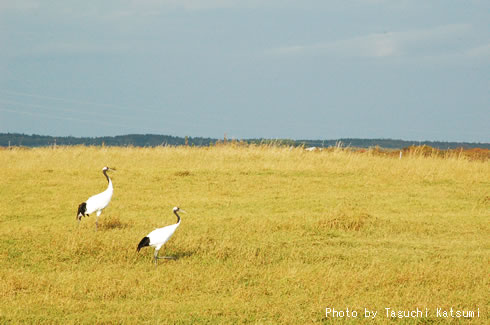 Habitat of Blakiston's Fish Owl
The forests below Murashima Farm are home to a number of rare animals. They include Blakiston's Fish Owl, which has been sighted nesting in the area. A conservation project is under way to protect Blakiston's Fish Owl, and while entry to the site is not permitted, it can be observed from outside.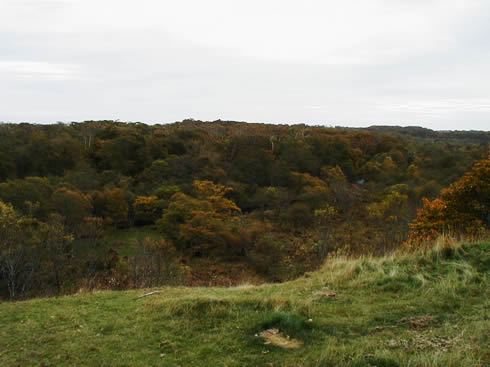 Natural Beauty around Rivers
In addition to the wide variety of animals that inhabit them, Nemuro's rivers are home to a multitude of plants. Some of these include corydalis ambigua, floating sedge (which is made by sedges in low wetlands growing to make a round, hat-like shape), and the rarely seen golden saxifrage (chrysosplenium alternifolium).