Nature in Nemuro
Nemuro is a place of extraordinary natural beauty, and is remarkable even within Hokkaido for its rich variety of wildlife. Nemuro is filled with captivating attractions for visitors, including nature parks such as Shiretoko National Park (dubbed "Japan's last hidden place" for its untouched natural beauty), and Notsuke-Furen Prefectural Nature Park (home to Lake Furen, and Notsuke peninsula, the largest sandbank in Japan), nationally designated primeval nature conservation areas, prefectural conservation areas, and bird and animal sanctuaries.
While most of the flowers that grow in Nemuro are usually alpine plants, including pheasant's eye (amur adonis), white arum (lysichiton camtschatcense), and Corydalis ambigua, they can actually be found growing in flatlands by the shore. You can even see crowberry (empetrum nigrum), an alpine plant that is said to be difficult to spot because of its discrete appearance, and rugosa rose (rosa rugosa), which only grows by the shore, blooming side by side. Trillium kamtschaticumi also grow in abundance, and large groups of orange daylily (hemerocallis dumortieri) blossoms can be found in the marshlands.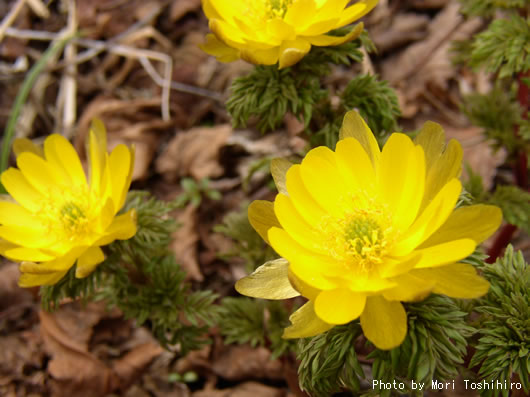 Nemuro offers the chance to get a rare and close-up view of the wide variety of wild animals that make their homes on and around the footpaths, including Japanese cranes, Blakiston's Fish Owls, black woodpeckers, and white-tailed eagles. Notsuke Peninsula, Notsuke Bay, Lake Furen, and Shunkunitai (a sandbar 8km long by 1.3km wide that divides Nemuro Bay and Lake Fuurenko) are registered by the Ramsar Convention as areas of global importance. It is our responsibility to preserve and protect these areas so that Nemuro's natural beauty can be enjoyed by generations to come. Every year, over 20,000 migratory birds, including grey-tailed tattlers (tringa brevipes), whooper swans (cygnus cygnus), brent geese (branta bernicla), and Eurasian widgeons (anas penelope), visit Notsuke Peninsula and Notsuke Bay. Approximately 260 breeds have been confirmed among the migrating birds that visit Lake Furen and Shunkunitai, which is one of the world's major connecting stops for migratory birds. Japanese cranes nest in the surrounding marshlands, where other flora and fauna such as Steller's sea-eagles (haliaeetus pelagicus), white-tailed eagles (haliaeetus albicilla), Blakiston's Fish Owls, whooper swans (cygnus cygnus), brent geese (branta bernicla), Yezo deer, Yezo red foxes (vulpes schrencki), red squirrels, sweet briar (rosa rubiginosa), iris setosa, and glasswort (salicornia europaea), can be spotted.